Alienware Aurora Ryzen™ Edition R10 Gaming Desktop
CREATE. PLAY. DOMINATE.
High-performance desktop with up to 16-core 3rd Gen AMD Ryzen™ overclockable processors designed for gamers who create.

Limited Time: First Month Subscription Premium Support Included

Tech Specs
Processor
AMD Ryzen™ 9 3900XT (12-Core, 70MB GameCache, Max Boost Clock of 4.7GHz)
Operating System
Windows 10 Home, 64-bit, English
Graphics Cardi
NVIDIA® GeForce® RTX 2080 SUPER™ 8GB GDDR6 (OC Ready)
Hard Drive
1TB M.2 PCIe NVMe SSD
Memoryi
32GB Dual Channel HyperX™ FURY DDR4 XMP at 2933MHz; up to 64GB (additional memory sold separately)
Wireless
Dell Wireless DW1810 (1x1) 802.11ac with Wi-Fi, Wireless LAN, Bluetooth 5.0
Case & Color
Dark Side of the Moon chassis with High-Performance CPU Liquid Cooling and 1000W Power Supply
Microsoft Office
No Microsoft Office License Included 30 day Trial Offer Only
Security Software
No Anti-virus Requested
Protect your purchasei
Monthly Subscription Premium Support
Keyboard
Add an Alienware Gaming Keyboard to your setup in Accessories below or no keyboard
Mouse
Add an Alienware Gaming Mouse to your setup in Accessories below or no mouse
Ports
Front
Front Ports
1 x Headphone/Line Out
1 x Microphone/Line In
2 x Type-A USB 3.1 Gen 1
1 x Type-A USB 3.1 Gen 1 w/Powershare technology
1x Type-C USB 3.1 Gen 1 w/Powershare technology

Rear
1 x SPDIF Digital Output (TOSLINK)
1 x SPDIF Digital Output (Coax)
6 x Type-A USB 2.0
1 x Type-C USB 3.1 Gen 2 w/Powershare technology (up to 15W)
3 x Type-A USB 3.1 Gen 1
1 x Type-A USB 3.1 Gen 2
1 x RJ-45 Killer E2600 Gigabit Ethernet
1 x Microphone In
1 x Line In
1 x Line Out
1 x Center/Subwoofer Output
1 x Rear Surround Output
1 x Side Surround Output
Dimensions & Weight
Volume: 33.8L (The space occupied by the external surfaces of the chassis)
Height (maximum): 481.6 mm (18.9")
Length (maximum): 431.9 mm (17")
Width (maximum): 222.8 mm (8.771")
Maximum weight: 17.8 kg (39.2 lb)
i
Audio and Speakers
Internal High-Definition 7.1+2 Performance Audio
Chassis
AlienFX Lighting Zones
2 unique programmable zones with up to 16.8 million distinct colors (Dark Side of the Moon)
3 unique programmable zones with up to 16.8 million distinct colors (Lunar Light)

Color Options
Dark Side of the Moon
Lunar Light

Customized Features
Alienware Command Center
Dashboard navigates all features, including themes, system performance, and overclocking
- Game Library to manage titles from multiple services
- FX supports full RBG values up to 16.8 million colors
- Thermal Management monitors and sets thermal performance
- Power Management adjusts power plans with a game
- Overclocking controls system performance and overclocking profiles
- Sound Center dials in the perfect sound by managing sound profiles, audio effects, and Audio Recon

Memory Slots
4 DIMMs

Thermal
Alienware™ Low-Profile Smart Cooling Heatsink Solution
Alienware™ High Performance Liquid Cooling
Power
Alienware™ 550 Watt Multi-GPU Approved Power Supply
Alienware™ 1000 Watt Multi-GPU Approved Power Supply
---
Memory
More memory (RAM) increases overall performance and enables your computer to run more applications at the same time.
---
Hard Drive
Greater hard drive capacity means additional space for all of your pictures, music, videos and more.
---
Support

PCs:
You do everything on your PC, so keep it safe by upgrading your support plan.
Help Me Choose: PC support options

Monitors:
When you choose Premium Support for monitors you get 24x7 support* for set-up, configuration, video card downloads & more.
Help Me Choose: Monitor support options
---
Set up your new PC fast
Dell Migrate is the simple do-it-yourself tool that moves the hard to replace data, personal records and important files to your latest Dell PC.
---
Microsoft 365
By choosing Microsoft 365, you will have the latest versions of Word, Excel, PowerPoint, OneNote and Outlook, plus 1TB of cloud storage and 60 minutes of Skype calls a month. Choose between the subscription for 1 user (Microsoft 365 Personal) or up to 5 users (Microsoft 365 Home), and always have access to your documents from your mobile phone, tablet, PC or Mac.
---
Office Productivity Software
Add the latest Office to your PC to do your best work – anywhere, anytime and with anyone.
---
PDF Solutions
Foxit PhantomPDF is the feature-rich PDF editor, comparable to Adobe Acrobat, which allows users to create, edit, and sign PDF files.
---
Digitally Downloaded Software
.
---
Alienware Recommended for Gaming Desktops
Save EXTRA 10% on accessories with coupon: BUNDLE10
---
4+ Star Customer Favorites
Save EXTRA 10% on accessories with coupon: BUNDLE10
Alienware Aurora Ryzen™ Edition R10 Gaming Desktop
Get up to
back in rewards
Availability is limited — this deal isn't guaranteed until you've completed the order.
Features
---
Operating system
Available with Windows 10 Home or Windows 10 Pro: Break down boundaries and immerse yourself in the game with graphics more realistic than ever before thanks to the multi-thread scaling capabilities of the new API DirectX 12.
---
THE RYZEN EDITION HAS ARRIVED
Create and conquer: The new Alienware Aurora Ryzen™ Edition desktop gives you the power to develop and explore new worlds with up to 16-core 3rd generation AMD Ryzen™ processors. Designed for powerful, intelligent and efficient gaming performance, AMD Ryzen™ processors are also ideal for livestreaming gamers who play and record simultaneously. With AMD SenseMI Technology, processor performance is automatically adapted to meet your gaming and application needs, while AMD GameCache reduces memory latency for higher frame rates.

Advanced memory technology: Your system delivers unwavering overclocking capabilities automatically thanks to HyperX™ FURY XMP DDR4 memory. HyperX memory modules are tested at speeds to ensure they are free from manufacturing and material defects, and preset timings, included on the memory modules, enable the highest performance possible on your system.

Higher bandwidth: The Aurora Ryzen Edition is the first Alienware machine to feature PCI-Express 4.0 Technology, which doubles the bandwidth available to graphics cards for enhanced overall gaming performance. Additionally, any component on your PCI-Express bus is given more bandwidth so you can experience higher performance while creating, streaming or recording.
---
INNOVATIVE GRAPHICS POWER, AIRFLOW, AND COOLING
The Alienware Aurora now offers optional custom graphics designs based on NVIDIA's 2nd Gen RTX architecture. These custom designs are made with extensive thermals and an innovative airflow pattern engineered to prioritize graphics performance while complementing the Aurora chassis airflow as well.
Extensive cooling: Our new thermal design includes quad 10mm copper heat pipes with integrated vapor chambers – our largest diameter heat pipe design to date – designed for exceptional gaming performance.
Innovative airflow:  Another added boost for graphics performance is made possible by a dual-axial fan design with positive rear pressure relief – a new Alienware first for graphics cards. The positive rear pressure relief allows heat to escape from specially located vents designed to aid with flow and thermal management. This new approach is built with gamers in mind.
Engineered for efficiency: These custom graphics card designs, included in both NVIDIA® GeForce RTX™ 3080 and 3090 graphics, are built with space efficiency with a max length of just 267mm that covers a 2.5x slots and offers a dual 6-pin/8-pin PCI-Express power connectors. All of these choices have been made to create efficiency with uncompromised gaming performance.
---
ENGINEERED FOR AN UNENDING ADVANTAGE
A new era of engineering: The new Aurora features our Legend Industrial Design with an improved airflow pattern. The Legend ID ensures airflow moves more fluidly and efficiently to reduce CPU temperatures. Lower temperatures mean performance with more stability and higher overclocking which results in higher frames per second while gaming. Additionally, the Legend Industrial Design lowers temperatures by up to 8% at the voltage regulator heatsinks over its predecessor.

Gaming made timeless: The new Alienware Aurora is thoughtfully engineered with an innovative PSU swing-arm, which enables a variety of benefits like tool-less graphics, expansion bays and a compact chassis size. It also allows graphics cards to be perfectly positioned for purposeful airflow. We ensured the swing-arm carries the power supply which allows for airflow through the side vent, while securing and reducing vibrations to the cards themselves during shipping.

Added safety: To ensure safety and to avoid any damage or injury, we created a stop-anywhere locking mechanism on the PSU swing-arm. This prevents the swing-arm from falling or swinging while in use.
---
LEGENDS LIVE ON
The future of design: The new Legend Industrial Design is a return to Alienware's roots, with a look that pushes Aurora into a new realm. The unique design helps avid gamers stand out from the crowd thanks to bold, continuous lighting and the iconic central loop of AlienFX. Additionally, functional front airways and hexagonal-shaped side venting boost intake efficiency and maximize air movement.

Light it up: Compatible with over 180 games, the integrated AlienFX RGB LED lighting is designed to enhance immersive gaming.

Legendary colors: Choose from two different ultra-smooth, satin-finished colors: Lunar Light (with extra lighting zone) or Dark Side of the Moon.

Enhanced usability: By moving the ports from the top of the system to the front, the Aurora gives users easier access, while surrounding lighting helps identify which ports are already occupied.
---
PERFORMANCE THAT RISES BEYOND
Push power further: The Alienware Aurora Ryzen Edition desktop is designed to fully support custom upgrades, including dual graphics and liquid-cooled CPU overclocking so you can push your system to extreme levels of power without worrying about overheating.

Killer™ connections: Never miss a beat with integrated networking solutions like Killer™ E2600 Ethernet LAN—standard on the motherboard—and optional Killer™ DoubleShot Pro technology that sends your connection signals into turbo-boost when Killer™ LAN is enabled.

Superior speed & storage: Experience incredibly fast load times with up to 4TB of total storage space with a combo option that features PCIe NVMe SSDs and a 7200RPM hard drive. The Aurora Ryzen Edition desktop also offers various configurations with SSDs as the main bootable drive and a larger secondary drive to house all your media, games and additional files.
---
NEW ALIENWARE COMMAND CENTER
The Alienware Command Center is continuously updated. Our latest version now includes features specifically desired by the gaming community with auto-tuned game profiles, a new responsive UI, intuitive overclocking options and all-new AlienFX settings.
---
Thermal control
Observe and edit your system's thermal profiles for performance-optimized airflow. The rear and top vents of the Alienware Aurora work as exhaust to keep temperatures in ideal ranges by removing heat from the system. The front and side vents simultaneously take in cool air to enable high performance and maintain system health.
Optimal overclocking
The new Alienware Command Center includes an easy and intuitive overclocking control module that allows the user to quickly squeeze additional performance out of their graphics and memory. Create your own system overclocking profiles, then easily control your system's performance.
Enhanced AlienFX
The latest AlienFX hardware and software supports full RGB values with up to 16.8 million colors. Easily manage your FX lighting zones, edit peripheral settings and save new themes for each game.
---
Ports & Slots
Front Ports
1. Type-A USB 3.1 Gen 1 | 2. Type-A USB 3.1 Gen 1 Ports with Powershare technology | 3. Type-C USB 3.1 Gen 1 | 4. Headphone/Line Out | 5. Microphone/Line In

Rear Ports
6. SPDIF Digital Output (Coax) | 7. SPDIF Digital Output (TOSLINK) | 8. RJ-45 Killer E2600 Gigabit Ethernet | 9. Type-A USB 2.0 Ports | 10. Type-C USB 3.1 Gen 2 with Powershare technology (up to 15W) | 11. Type-A USB 3.1 Gen 2 | 12. Side Surround Output | 13. Microphone In | 14. Line Out | 15. Type-A USB 3.1 Gen 1 | 16. Rear Surround Output | 17. Center/Subwoofer Output | 18. Line in

*IO ports subject to graphics card selected.
---
Dimensions & Weight
1. Height: 18.9" (481.6mm) | 2. Width: 8.771" (222.8mm) | 3. Length: 17" (431.9mm) | Volume: 33.8 L | Maximum Weight: 39.2 lb (17.8 kg)i
---
---
HIGH-PERFORMANCE GAMING ACCESSORIES
---
---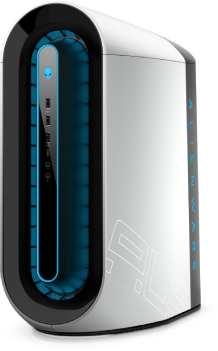 Gaming PCs – Shop all gaming PC categories