Nintendo Switch with Red/Blue Joy Con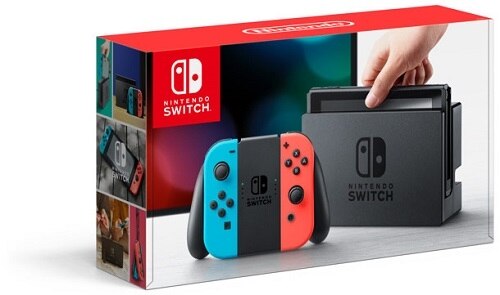 Best Seller
Get the gaming system that lets you play the games you want, wherever you are, however you like.

This bundle includes the Nintendo Switch console and Nintendo Switch dock in black, with contrasting left and right Joy‑Con controllers—one red, one blue. It also includes all the extras you need to get started.

Vertical or sideways, motion controls or buttons, the Joy-Con controllers give you total gameplay flexibility.
Need help? We're here for you.
Tech Specs
Quick Specs
Product Description
Nintendo Switch™ console
Size
Approximately 4 inches high, 9.4 inches long, and 0.55 inches deep (with Joy-Con attached)
*The depth from the tip of the analog sticks to the tip of the ZL/ZR buttons is 1.12 inches
Weight
Approximately .66 lbs
(Approximately .88 lbs when Joy-Con controllers are attached)
Screen
Multi-touch capacitive touch screen / 6.2-inch LCD Screen / 1280 x 720
Storage
32 GB of internal storage, a portion of which is reserved for use by the system. Users can easily expand storage space using microSDHC or microSDXC cards up to 2TB (sold separately).
Networking
Nintendo Switch can be connected to the Internet via a wireless (IEEE 802.11 a/b/g/n/ac) and Bluetooth 4.1
(In TV mode, Nintendo Switch can be connected by using a wired LAN adapter - sold separately)
Video output
Up to 1080p via HDMI in TV mode
Up to 720p via built-in screen in tabletop mode and handheld mode
Audio output
Compatible with 5.1ch Linear PCM output
Output via HDMI connector in TV mode
Buttons
Power button / Volume button
Headphone/mic jack
3.5mm audio jack
Game card slot
Nintendo Switch game cards
microSD card slot
Compatible with microSD/microSDHC/microSDXC memory cards
*Once the microSDXC card is inserted, a system update will be necessary. An Internet connection is required to perform this system update.
Operating environment
41-95 degrees F / 20-80% humidity
41-95 degrees F / 20-80% humidity
Lithium-ion battery/4310mAh
Battery life
Approximately 2.5 - 6.5 hours
*The battery life will depend on the games you play. For instance, the battery will last approximately 3 hours for The Legend of Zelda: Breath of the Wild.
Charging time
Approximately 3 hours
*When charging while the hardware is in sleep mode
Product Description
Nintendo Switch dock
Size
Approximately 4.1 inches high, 6.8 inches long, and 2.12 inches deep
Weight
Approximately .72 lbs
Output
USB Port (USB 2.0 compatible) x2 on the side, 1 on the back
System connector
AC adapter port
HDMI port
---
Essential Gaming Accessories
Essential Gaming Accessories
---
Essential Accessories
Essential Accessories
---
Essential Audio
Essential Audio
Nintendo Switch with Red/Blue Joy Con
Get up to
back in rewards
Ships in 5–7 business days
Features
---
Introducing Nintendo Switch, the new home video game system from Nintendo. In addition to providing single and multiplayer thrills at home, the Nintendo Switch system can be taken on the go so players can enjoy a full home console experience anytime, anywhere. The mobility of a handheld is now added to the power of a home gaming system, with unprecedented new play styles brought to life by the two new Joy-Con controllers.
---
---
Play Anywhere
Home Gaming System: At home the main unit rests in the Nintendo Switch dock, which connects the system to the TV and lets you play with family and friends in the comfort of your living room.
On-the-Go: Lift Nintendo Switch from the dock and instantly transition to handheld mode for on-the-go gaming. By sharing Joy-Con, players can go head-to-head while away from home. You can also enjoy the same great games in tabletop mode by using the included stand to prop the system up.
---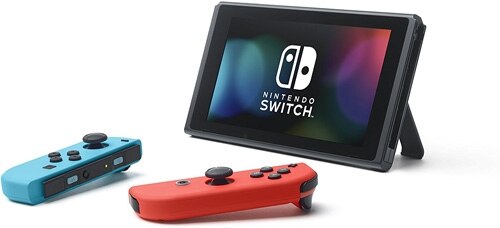 New Play Styles
Remove the detachable Joy-Con from either side of Nintendo Switch for more play styles:


One player can use a Joy-Con in each hand
Two players can each take one
Multiple Joy-Con can be employed by numerous people for a variety of gameplay options (additional Joy-Con sold separately)
Slip a set of Joy-Con into a Joy-Con grip accessory, mirroring a more traditional controller. Or, select an optional Nintendo Switch Pro Controller.
Bring together up to 8 Nintendo Switch systems for local face-to-face multiplayer.
---
Joy-Con
Includes traditional inputs of previous platforms, such as two analog sticks, A/B/X/Y buttons (or directional buttons), and two shoulder buttons.

Each Joy-Con can be used as a single controller. Also includes:
Capture Button
CMotion Control - each Joy-Con includes a gyroscope and accelerometer
HD Rumble
IR Motion Camera
amiibo - there is an NFC reader/writer located on Joy-Con(R). (also included in the Nintendo Switch Pro Controller). Nintendo Switch is compatible with existing amiibo; usage is game dependent.
Rechargeable
Colors - multiple colors available - gray, neon red, and neon blue
CRelease Button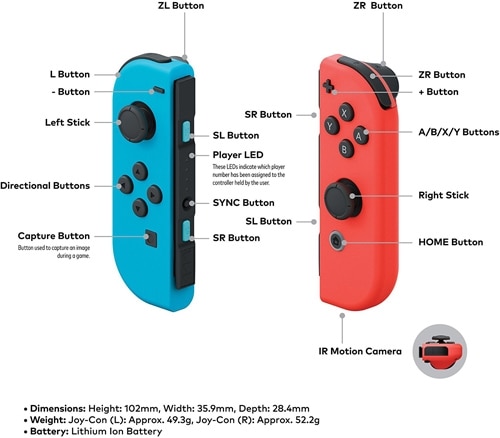 ---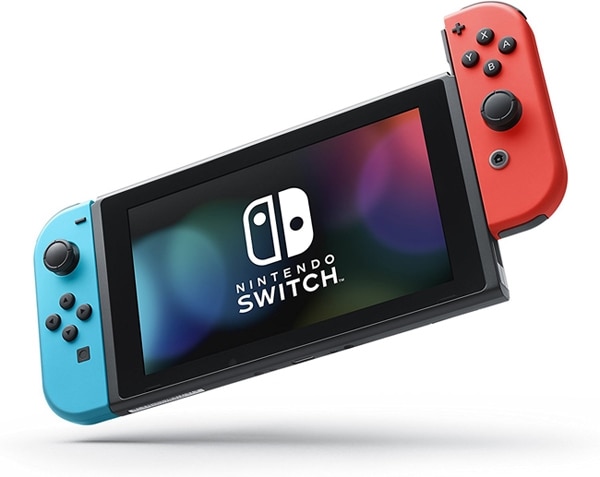 Bundle includes
This bundle includes the nintendo Switch console and Nintendo Switch dock in black, with contrasting left and right Joy-con controllers -- one blue, one red. It also includes all the extras you need to get started:
Nintendo Switch Console
Nintendo Switch dock
Joy-Con (L) and Joy-Con (R)
Two Joy-Con strap accessories
One Joy-Con grip
HDMI cable
Nintendo Switch AC adapter