iolo System Mechanic Premium - 3 Year Subscription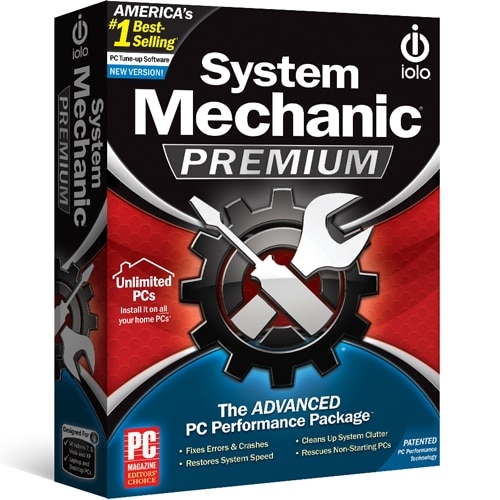 System Mechanic Pro automatically finds and repairs errors and fragmentation and cleans out clutter - so your PC operates smoothly, reliably and faster!
Don't waste money on expensive "experts" to fix your PC. System Mechanic repairs, optimizes, and maintains your PC.
System Mechanic keeps your PC running faster, cleaner and error-free. Its powerful arsenal of 40+ award-winning precision tools fixe stubborn errors, clean out clutter, optimize Internet and download speeds, ensure personal security and maintain maximum computer performance automatically.
Need help? We're here for you
Tech Specs
Quick Specs
Product Description
System Mechanic Professional (3 years)
System requirements
Windows® 10, 8.1, 8, 7
Internet connection (required for license activation)
Internet Explorer 9.0 or later
Minimum 1 GB RAM (optimal 2 GB)
At least 270 MB of available hard disk space (includes virus definitions)
Windows "Administrator" User Account
---
Accessories
Find all the accessories you need to do more.
iolo System Mechanic Premium - 3 Year Subscription
---
Features
---
Award-winning System Mechanic Premium is proven to restore more speed, power and stability to your PC than other products or services. It fixes errors, boosts performance, eliminates crashes, restores data, while patented ActiveCare® technology proactively prevents problems from reoccurring. It also includes an unmatched data-recovery program; secure online backup; and military-grade secure file deletion. Regularly updated Tune-up Definitions™ from iolo Labs ensure that your PC continues to be protected against the latest performance threats and system flaws. In one fully integrated suite, System Mechanic Premium provides the most comprehensive arsenal of PC performance and data protection tools available.

Usage rights vary by product and may be subject to additional restrictions. Product images displayed are for illustration purposes only. No physical materialsor documentation will be distributed with electronic software downloads from our site. Dell's Terms and Conditions of Sale apply.

System Requirements
Any PC, Laptop, or Netbook/Mini running Windows 7, 8, Vista, or XP SP3 (32 or 64 bit)
CD or DVD drive (for CD installation)
256 MB RAM; 50 MB available disk space
Internet connection for license authentication and product updates
---
Revolutionary new Program Accelerator™ supercharges program performance
Uses an all new patent-pending calibration technology to speed up program performance by intelligently realigning programs with their dependent files.
---
ActiveCare® keeps PCs running like new automatically
Set-and-forget patent-pending ActiveCare® technology proactively optimize PCs using only idle system resources. Multiple new automated repair tasks enable System Mechanic to monitor and automatically fix even more problems than before.
---
AcceleWrite™ real-time technology speeds PCs by optimizing critical file storage activity
It increases performance on both solid state drives (SSD) and traditional hard disk drives (HDD). As a result, writing and reading files is much faster and hard drives last longer.
---
New Designated Drivers™ prevents untimely breakdowns
Scans for out-of-date device driver files, and conveniently and safely manages the critical software that keeps your PC's devices working problem-free.
---
Fully integrated SSD Accelerator™ streamlines drives for speed
Prolongs the life of flash-powered solid state drives and keeps them running at ultra-high speeds to optimize PC performance like never before.
---
CRUDD Remover™ eliminates root cause of system drag
Helps unclog system performance by finding unused, unnecessary, and redundant programs that are slowing down and destabilizing your PC. "Crowdsourcing" technology harnesses the actions of many experts to disable or uninstall only the right programs.
---
Break the 3-PC barrier with the Whole Home Licensing™ Program
Allows families to install System Mechanic on an unlimited number of PCs in a single-family household at no extra cost.
---
Enhanced Tune-up Definitions™ raise System Mechanic's IQ
These automatic updates from iolo Labs that fuel System Mechanic's intelligent problem solving capabilities have been expanded to include 5 new major areas of PC performance data, empowering System Mechanic with the ability to fix over 30,000 different problem types with surgical precision.
---
Improved Memory Mechanic® rescues 25% more memory
System Mechanic's innovative memory-reclaiming tool has been re-engineered to work up to 85% faster and regain up to 25% more orphaned RAM from leaky programs.
---
Secure online backup lets you access your data anywhere
Online backup (or 'the cloud') allows you to access, download, edit, and save your data anytime, anywhere, and on any PC or mobile device, so you can always have your important data at your fingertips.
---
SmartScan® and StrongScan® resurrects lost data
This proprietary technology finds and recovers files even after they've been deleted. StrongScan digs deep to find files that other recovery programs miss, and SmartScan helps identify the file you need.
---
DriveScrubber® keeps private data out of the wrong hands
Powerful, military-grade DriveScrubber® can now delete files, folders, and entire drives from within Windows, making it even easier to securely wipe private data from your PC.