Ultimate Ears ROLL 2 Bluetooth Speaker
Water Proof
UE ROLL 2 is waterproof. Like, you can completely submerge in water and it will be totally cool. Add a soundtrack to all your adventures with the big, bold, beautiful sound of UE ROLL 2. But how big, how bold, and how beautiful.
Need help? We're here for you
Tech Specs
Quick Specs
Product Type
Speaker - for portable use
Speaker Type
2-way - active
Frequency Response
108 - 20000 Hz
Power Options
USB charging
Battery
Speaker battery rechargeable - lithium ion
Dimensions (WxDxH)
1.6 in
Dimensions - Diameter
5.3 in
Manufacturer Warranty
2 years warranty
General
Product Type
Speaker - for portable use
Speaker System
Speaker Type
2-way - active
Frequency Response
108 - 20000 Hz
Bluetooth Profiles
Advanced Audio Distribution Profile (A2DP)
Speaker System Details
Driver Details
Speaker: woofer driver - 2"
Speaker: 2 x tweeter driver - 3/4"
Connections
Connector Type
Audio line-in (mini-phone stereo 3.5 mm)
Miscellaneous
Power
Battery
Type
Rechargeable - lithium ion
Run Time (Up To)
9 hour(s)
Recharge Time
5.5 hour(s)
Dimensions & Weight
Manufacturer Warranty
Service & Support
Limited warranty - 2 years
---
Accessories
Find all the accessories you need to do more.
Ultimate Ears ROLL 2 Bluetooth Speaker
---
Features
---
Volcano
Secret entrances to the center of the earth and centerpiece to many a perilous fish tank initiation ceremony. Volcanos are doorways to adventure–and the Volcano ROLL 2 your ticket in. Get yours today, here and from fiery retailers worldwide.
---
BIG, BOLD, BEAUTIFUL SOUND
LOUDER, PROUDER
Let us impress you even more than we did with the original UE ROLL's sound. 15% more, to be exact. That's right. The incredibly loud pint-sized speaker just got louder.

DOUBLE UP
More friends crash the party? Wirelessly Double Up with a second UE speaker and take your sound to a whole new level.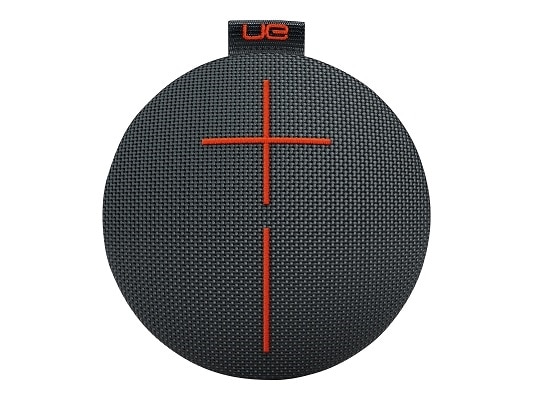 ---

IS THAT A BUNGEE?!
THAT'S A BUNGEE
No speaker has the same versatility or unique portability that UE ROLL 2 does. Strap it to your bike, your board, your backpack, and it'll still be there.

LIGHTER THAN A CAN OF SODA
Whether you're biking, running trails, or making drink runs, you don't want to carry a heavy speaker. That's why UE ROLL 2 weighs just over half a pound. So light, you'll forget you're even carrying it.
---
SERIOUSLY, IT'S WATERPROOF
GET WET
You can drop it in the pool. Or, you can bungee it to the front of your kayak as you go over a waterfall in a monsoon with tunes blasting. No problem. Seriously.

PARTY-PROOF
UE ROLL 2 is durable enough to tag along on all your adventures. Take it to the snow, take it to the beach, take it to the mud. Take the party anywhere.

FLOATIE
We understand the incredible importance of pool floats--that's why every UE ROLL 2 comes with a free inflatable floatie. Now while you're lounging on your giant inflatable swan, your UE ROLL 2 can float right beside you.
---
GO FARTHER
GET SOME SPACE
Your Bluetooth® speaker shouldn't have to always be right next to your phone. We increased the wireless range by over 50% from the original UE ROLL for that reason. Get some space!

PLAY LONGER
With a battery life of up to 9 hours, you have no excuse to stop the party.

THE APP IS AWESOME
It doesn't stop getting better. Download the UE ROLL 2 APP for even more awesome features like Block Party and Remote On/Off, to name a few.